The festive season is just around the corner, and you know what that means – it's time to update your marketing strategy. At this time of year, competition is fierce, but if you know how to print stunning campaigns that engage and delight your audience, you'll be one step ahead in time for the new year.
Print advertising is one of the best ways to capture your customer's attention as they browse the stores at this time of year. Whether you're sprucing up your brick-and-mortar location with some stunning banners, or you're sending innovative direct-mail campaigns, Immij has you covered!
Here are our top 5 Christmas print marketing ideas to help you boost sales this season.
1.     Start Offering Incentives Early
It may be the most wonderful time of year, but the holiday season can also be one of the most expensive periods too. With that in mind, give your customers something to convince them that spending with you is the best way to have a great time, and save money too!
A beautifully-printed set of leaflets or vouchers complete with a seasonal discount code is sure to delight your audience. If you want to get ahead of the curve, you can even give your most loyal clients a small booklet of coupon codes and insights into upcoming sales that they can take with them into the new year.
2.     Give Your Direct Mail Campaigns a Festive Theme
There are few better times to get your direct mail campaigns noticed than during the Christmas holidays. Your customers will be checking their mail every day for cards from loved ones, so make sure that they don't feel disappointed when they open your pamphlet or newsletter.
Here are some ideas on how you can spruce things up:
Include plenty of great festive images to get your customer into the right spirit.
Make your direct mail campaigns look like Christmas cards!
Use inserts and envelopes in festive shapes to capture your customer's attention
You could even add a ribbon to your print-outs so that your customers feel like they're unwrapping their first holiday gift.
3.     Try Something New
The holiday period is a time of wonder and excitement, so why not experiment with something a little different? 3D or lenticular printed materials can make your advertisements leap off the page into the hearts of your customers. Imagine an offer for discounted ice cream with a 3D snowman that seems to move every time your client looks at it or a direct mail campaign with a multi-dimensional Christmas tree on the top.
Speak to your professional printing company about what you can do to embrace the festive spirit with some exciting new printing strategies.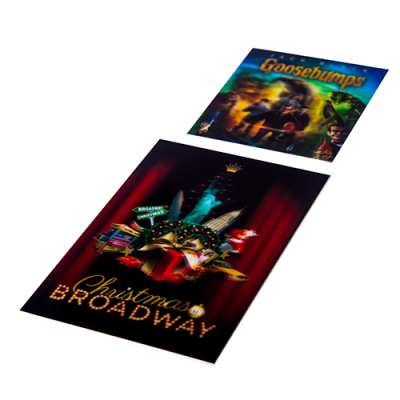 4.     Reward Customer Loyalty
The holiday season is a time to be grateful for all the incredible things you have in your life. As a business, this is your opportunity to show your customers that you're thankful for their constant support throughout the year.
Use membership printing tactics to show your gratitude, by giving your most loyal customer an exclusive discount on your popular products or services. Or give everyone a chance to save extra when they spend a little more over the holiday season with a membership card, they can use to collect points.
5.     Don't Forget to Decorate!
Finally, if remember that if you've got a brick and mortar location for your business, then it pays to decorate! Consider using festively-themed plant tags on your flowers if you run a local horticultural store or using wide-format printing to create exciting holiday-themed packages for your best-selling products.
Here at Immij, we offer printing solutions sure to improve your selling potential any time of year! Contact us to today to find out what we can do to help your business thrive this season!